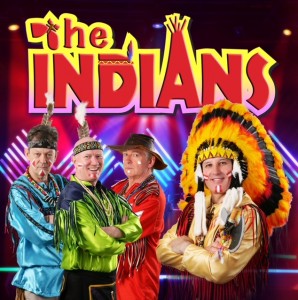 Ireland's Top Show Band is coming back to Hunstanton!  
Featuring Sitting Bull, Rising Sun, Little Thunder, Crazy Horse and Dull Knife.  
Popular since the 70's with a huge following and many albums to their credit, The Indians will put a smile on your face with their unique brand of country music. Always dressed in their colourful Western Indian outfits, they are entertaining crowds for more than four decades.
The Indians "BIG CHIEF" is lead singer Raymond Kelly (Geronimo), and he is regarded as one of the best front men in the band business. When Geronimo sings, everybody listens. It should be a fantastic show, with Big Chief singing Indians favourites from back through the years.
On video and compact disc, The Indians have a great selection of material representing the show you are likely to see and hear in their concert program. Their most recent cd release "Hello World" features Big Chief Geronimo. All Indians cds and dvds are on sale at the show.
Other members of the band are Eamonn Keane (Sitting Bull) on keyboards, accordion and vocals, Kevin McKeown (Long Arrow) on drums and vocals, Brian Woodfull (Crazy Horse) on bass guitar and vocals.
Sunday 30th August 2020 - 19:30
Tickets 
£20.00 / £18.00, restricted view £16.00