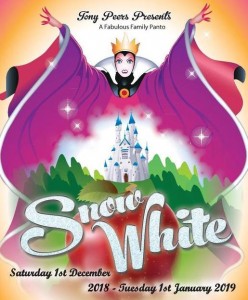 When the Wicked Queen discovers via her magic mirror that her young charge Snow White is the fairest in the land, it's not long before she is over come with jealously and is plotting to get rid of her with a one way trip into the depths of the dark forest!! Especially when she discovers that a handsome Prince has arrived in the Kingdom and is looking for a bride and has fallen head over heels in love with Snow White. Can Snow White escape the clutches of the Wicked Queen, her stepmother? Will the Prince save the day and ensure a happily ever after along with her new found friends the Seven Dwarfs?
We can guarantee you that there will be plenty of audience participation and all the other traditional ingredients you know and love will be there in abundance. Stunning costumes, creative choreography, scenery straight from an enchanting fairy tale and a fast paced story line which will ensure this year's production of Snow White and the Seven Dwarfs is a truly magical experience.
So what are you waiting for? You better Heigh – Ho over to the Box Office and dig those pennies out and get booking!
From Saturday 1st December 2018 to Tuesday 1st January 2019Ticket Prices
- Adults £17.00, Children £14.00, Concessions £14.00,
Family Ticket of 3 £42.00, Family Ticket of 4 £55.00 (Family Tickets must include at least 1 Child)
Groups of 10 or more - 1 in 10 goes free
School Performances Available - Schools £8.00 per child (booked before 1st June 2018) thereafter £8.50 per child. Teachers 1 in 10 goes free (any extras charged at child price)
Schools and Groups please email Gemma directly on 
gemma@princesshunstanton.co.uk.
All prices include booking fee