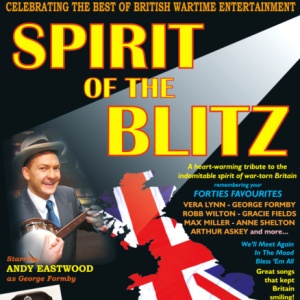 Celebrating the best of British wartime entertainment
A tribute to the legendary stars who kept us smiling through our darkest days,
Spirit of the Blitz
recaptures the patriotic optimism of war-torn Britain.
Sing along to swinging hits like
Don't Sit Under The Apple Tree, Bless 'Em All, Leaning On A Lamp-Post
, and of course,
We'll Meet Again
.
Starring Andy Eastwood, Maggie O'Hara and Pete Lindup, this feel-good show recreates all your forties favourites, including Vera Lynn, George Formby, Max Miller, Bing Crosby, Anne Shelton and Gracie Fields... A truly heart-warming afternoon of live music and laughter.
For those who remember the war years, Spirit Of The Blitz is a trip down memory lane; for those who don't, it's a Sentimental Journey back through time to the glorious melodies and good clean comedy that accompanied the nation's 'finest hour'. 
The Cast
Andy Eastwood
is very familiar with the songs of the war years, having portrayed George Formby in over a thousand performances of the touring show
We'll Meet Again
. He was the only musician ever to gain his Oxford degree playing the ukulele, and is one of the world's foremost exponents of the instrument. He is also a violin virtuoso, as you will see in the show's patriotic finale! 
Maggie O'Hara
delights with her superb vocal talents, in tributes to the legendary "forces' sweetheart" Dame Vera Lynn, cheery Lancashire lass Gracie Fields and sultry songstress Anne Shelton. With such versatility it's no wonder that this lady has forged an award-winning international career in theatre and cabaret.
Pete Lindup
, armed with trumpet, trombone, a jazzy suit and a wealth of wit, has worked alongside many of the great names of the variety stage. He will recall the great comedians Max Miller and Robb Wilton amongst others, and is an expert entertainer in true vaudeville style.
A variety show would be incomplete without a live band, so our multi-talented musicians
Martyn St James
and
Phil Jeffery
are on hand to accompany the whole proceedings.
Wednesday 23rd October 2019​ - 14:00
Tickets
 Standard £16.50, Groups Buy 10 get 1 Free, Concession £15.50