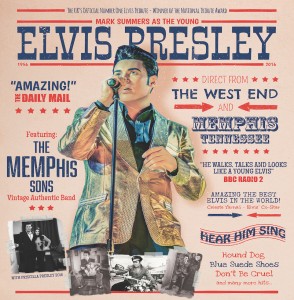 Mark Summers as the Young Elvis Presley
, the UK's Official Number one Elvis Tribute Show winner of the National Tribute Awards 2017. One of the world's Top selling international Elvis Tributes, Mark has worked around the world from London's West End to Memphis, USA! Appearing with many of Elvis' original band members, movie co-stars, close friends and some of the Presley family!  
The
NEW
show is not your typical Jumpsuit Elvis show, it's Young and fresh! High energy, fun packed with all Elvis' greatest hits; with a vintage look on stage from the costumes to the band instruments to create that authentic Elvis sound.   
"He walks, talks and looks like a young Elvis"
BBC Radio2
From Elvis' first hits from Sun Studios, the show takes you on a fun musical journey through Elvis' early career from his first TV Appearances, RCA Victor recordings, through his army years and into the movies and much more, packed with all your favourite hits, you'll be sure to be singing and dancing all night long with the Ultimate King of Rock N Roll… Elvis Presley  
"Amazing"
The Daily Mail
The show is set to excite and entertain any audience, leaving them 'All shook Up'.  
For more information about the show please visit
www.elvislegacy.com
Friday 4th October 2019​ - 19:30
Tickets
£21.50 / £19.00