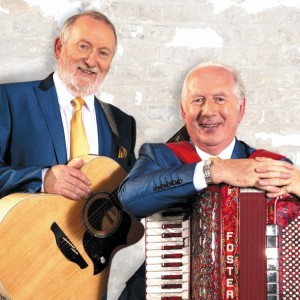 FOSTER & ALLEN are bringing their WE'LL MEET AGAIN TOUR to the UK in Autumn 2022. The Princess Theatre is their opening night!!!
In 2019, Foster & Allen undertook a 70+ date touring commitment in Ireland, Scotland, Australia, Canada, Northern Ireland & UK.
Foster & Allen's Tour is will include their songs such as Maggie, After All These Years, Reminiscing, Reflections, Remember You're Mine, Souvenirs, Memories, Heart Strings, By Request, Songs We Love To Sing.
Foster & Allen aren't showing any signs of slowing down and their touring commitments prove how popular they remain for their fans who like to see them in a live performance experience.
THE UNIQUE 'FOSTER & ALLEN' SOUND WILL BE WITH US FOR MANY YEARS TO COME!
Saturday 29th October 2022 - 19:30
Tickets
£25.50