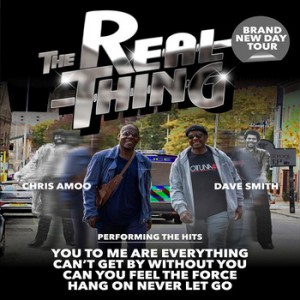 Best known for their legendary hits 'You To Me Are Everything', 'Can't Get By Without You' and 'Can You Feel the Force', as well as their ground-breaking 1977 song, 'Children of the Ghetto', The Real Thing remain Britain's most successful black group of all-time. Pioneers in soul, funk and dance music, the two original members – Chris Amoo and Dave Smith – are now celebrating over 45 years in the music industry. Still gigging across the world, the band's success and longevity is unprecedented in British entertainment history.
Today, The Real Thing are still in enormous demand; their touring shows (complete with a live five-piece band) still entertain audiences almost every week of the year. In 2013 the group captured their live show on CD and DVD with 'Live at the Liverpool Philharmonic', which has been hugely acclaimed. As recently as October 2016 The Real Thing travelled to Australia for their first ever tour Down Under, wowing theatres with their legendary energetic shows. Sadly, in February 2018, Eddy Amoo passed away at the age of 73. His presence is hugely missed, but Chris and Dave continue to tour and their legacy as Britain's premier black group endures. Their unique reputation for hits, musicality and showmanship carries on.
Support Act
- DONOVAN BLACKWOOD - a tremendous vocalist who has performed with hit recording group Heatwave and who has done backing vocals for Lionel Richie, Tina Turner, & James Morrison.
WATCH VIDEO HERESaturday 18th November 2023 - 19:30Tickets
£32.50