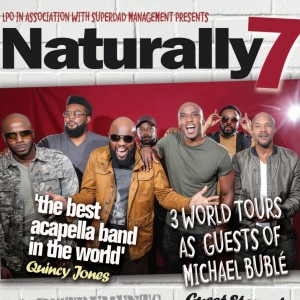 "Perhaps the most memorable presentation involved Naturally 7, a group of seven musicians who practice something they call "Vocal Play". It's hard to describe their act other than saying each of them used their voices in unison to recreate a different musical instrument from drums to brass instruments to guitars. They made beatboxing look like child's play. Their Wall of Sound song, earned them a standing ovation."
Daniel Sieberg/CBS News.
They made their national U.S. Television debut on Ellen and joined Bublé for a guest appearance on The Today Show. More recently, they opened for Jay Leno in Las Vegas and performed at his 'Tonight Show', were guests on Tavis Smiley, performed at NARM, helped celebrate Quincy Jones' 75th Birthday in Montreux and greeted a hometown crowd at Madison Square Garden. Following that show, they travelled to London to play the renowned Royal Variety Television show, capping the evening off, by meeting His Royal Highness Prince Charles.
With their rich harmonies, an unbelievable ability to replicate instruments and a stage presence that can be felt in every seat of the house, Naturally 7, the first vocal play group ever, are amazing, charming fans where ever they perform.
Friday 8th March 2019 - 19:30
Tickets
£32.00