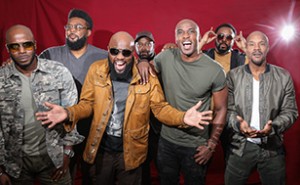 Naturally 7's musical journey from Michael Bublé, Coldplay, Quincy Jones, Herbie Hancock, Phil Collins, Ludacris, Mahalia Jackson to Queen....and guaranteed no instruments-just voices.
Quincy Jones:
"The best a-cappella-group in the world..."
• New album-release (BMG) in 2018, entitled 'Both Sides Now'
• 3 world-tours as special-guests of Michael Bublé (500,000 people inthe UK alone). 467 shows (2007-2015) in 25 countries
• 4 duets recorded with Michael Bublé
• Special guest for Coldplay, Diana Ross
• Major TV-performances in the US & UK: Royal Variety Performance, Jools Holland, Ellen De Generes, Jay Leno, Craig Ferguson, Night At The Proms (BBC), The Today Show, TheTonight Show, etc.
• BET-Honours for Herbie Hancock
• Night Of The Proms with Mick Hucknall and The Jacksons
• Duet with Ludacris on Quincy Jones' most recent studio album
• Performed at major Jazz-Festivals around the globe - 4x Playboy Jazz at Hollywood Bowl, 3x Montreux Jazz, New Orleans Jazz, Capital Jazz, Nice Jazz, etc.
• 7 album-releases between 2002 and 2018
• Some of their previous biggest global successes were notable For Naturally 7, the turning point came in the Autumn of 2007. From quiet success all over Europe they have been propelled onto the world stage, performing before millions of people.
As the special guest of Canadian Superstar Michael Bublé, Naturally 7 have been met with standing ovations nightly in the US, Europe, the U.K., Canada, Australia, China, South-East Asia, South America, South Africa, and many other countries on 5 continents.
It was 2009 when the group truly hit the ground running. In January they played to a packed house at London's legendary club Pigalle, which included a number of famous faces – Coldplay's Chris Martin, legendary musician and producer Brian Eno. The next day, by invitation the group joined Coldplay and Eno in the studio. From the UK, Naturally 7 travelled to California, where they performed at the prestigious TED (Technology, Entertainment, Design) Conference, receiving a standing ovation.
"Perhaps the most memorable presentation involved Naturally 7, a group of seven musicians who practice something they call "Vocal Play". It's hard to describe their act other than saying each of them used their voices in unison to recreate a different musical instrument from drums to brass instruments to guitars. They made beatboxing look like child's play. Their Wall of Sound-song, earned them a standing ovation."
(Daniel Sieberg/CBS News).Thursday 23rd April 2020 - 19:30
Tickets
£32.00