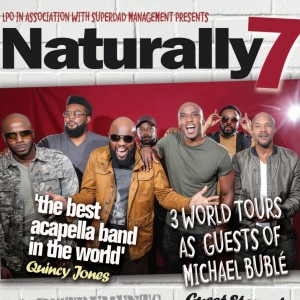 Naturally 7 is an American music group with a distinct a cappella style they call "vocal play," which, according to group leader Roger Thomas, is "the art of becoming an instrument using the human voice to create the sound."
They simulate the sounds of an instrumental band using only their voices, mouths and distortion effects. The group was formed in 1999 in New York City. It currently consists of the Thomas brothers Roger (musical director, arranger, first baritone, rapping) and Warren (drums, guitar, third tenor), Rod Eldridge (first tenor, scratching, trumpet), Rickey Cort (fourth tenor, guitar), Dwight Stewart (second baritone, vocals, trombone), Garfield Buckley (second tenor, harmonica), and Kelvin "Kelz" Mitchel (bass guitar, trumpet).
They have performed with Michael Bublé, Coldplay, Quincy Jones, Herbie Hancock, Phil Collins, Ludacris, Mahalia Jackson and Queen.... and guaranteed no instruments - just voices. The group has recorded a number of CD's over the years, and their latest release is entitled Both Sides Now.
www.naturallyseven.com
Friday 8th March 2019 - 19:30
Tickets
£32.00