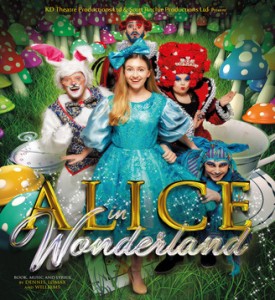 Join Alice down the rabbit hole in her magical adventures through Wonderland in this brand-new staging of Lewis Carroll's family favourite 'Alice In Wonderland.'
Come and join the tea party and meet the Mad Hatter, The White Rabbit, Cheshire Cat and the Queen of Hearts plus many more exciting colourful characters!
This exciting and playful take on the tale features a professional cast of energetic performers, catchy new songs and lots of humour that will entertain and delight the whole family!
From the creators of last years Wind and the Willows KD Theatre productions and Scott Ritchie Productions.
A SHOW NOT TO BE MISSED!!!!
Watch the trailers below
https://youtu.be/KqyttgUJ5YE​
https://youtu.be/LUqakOFHqeU
Sunday 21st April 2019 - 15:00
Tickets
 Adult £15.00, Child under 12 & Concessions £13.00, Family Ticket £54.00