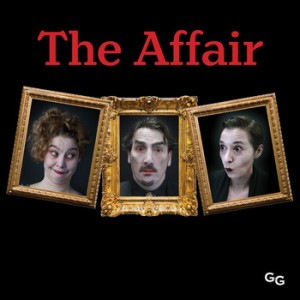 "...an evening with Gibbons & Gaulier is one not to be missed... the material is glorious and original.
The Affair is a deftly written play... with a depth that will leave you wanting more... Gibbons & Gaulier are simply unique!" - James Pearson, Artistic Director, Ronnie Scotts Jazz Club.
A hilarious and thoroughly uplifting new play about relationships, which has all the ingredients of a great comedy… clown, bouffon, vaudeville and slapstick! With a sprinkle of drama and a splash of tragedy, this cake… I mean pizza, is ready to eat.
The Affair is a wonderfully funny play… a laugh a minute, simply, unmissable!
Our casanova, Gustavo, is getting ready to ask a very important question, but not before he has checked everything on his 'to do' list. After Daffadowndilly's arrival, what is supposed to be a romantic evening soon starts to spiral out of control; following a knock on the door all reason turns to mayhem, and we are faced with a scenario that leaves all three characters grappling for sanity.
The Affair is a timeless comedy that depicts the highs and lows of relationships in a very funny way.
With each character bringing a different light to the story, there is plenty for the audience to relate to and be amused by.
THE CHARACTERS
Gustavo
- an overly controlling and deluded casanova masking his truly awkward and obsessive nature. How will he manage two neurotic women on his trail, without plummeting into the depths of despair?
Daffadowndilly
- a vain and excitable woman to say the least, she has an unhealthy preoccupation with her appearance. Her narcissistic tendencies appear to dominate everything she does; does anything lay beneath the surface?
Lark
- a confident yet confused individual. She seems to think her needs are more important than anyone elses and only ever wants to play games. Will her determination pay off? Or perhaps she will just accept she can't always win.
Thursday 17th October 2019 - 19:30
Tickets
£15.00 / £14.00