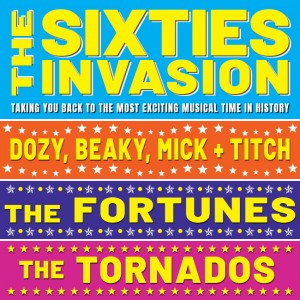 It's being hailed as the best Sixties show touring the UK.
Three world famous bands that made British pop music the best in the world in the swinging sixties, will take you on a magical rollercoaster ride to the most exciting time when pop music was at its best, featuring the original multi-hit makers
Dozy, Beaky, Mick and Tich
, playing their number one UK hit "The Legend of Xanadu", "Bend It", "Zabadak!" plus many more.
The Tornados'
, worldwide hit "Telstar" offer the ultimate experience with a high polished performance and a host of experience playing with some fantastic and quite frankly, legendary artists, they will have you dancing, swinging and shaking all night long. 
The Fortunes are one of the UK's premier harmony groups. A string of hit records including You've Got Your Troubles, Here It Comes Again and Freedom Come Freedom Go, have stood the test of time and still top the play-lists on any radio station. Ask any '60s group who they
most admire for their vocal talents and The Fortunes would come out on top. Their last CD sold over 100,000 copies and 'It's The Real Thing'  Coca Cola advert is, of course, sung by The Fortunes. 
So come and join us to celebrate a golden time when pop music was at its very best. Dig out those miniskirts and paisley shirts and enjoy an evening of pop's greatest decade come to life.
Watch the trailer below
https://youtu.be/NYEetsm0UbE​
Saturday 10th August 2019 - 19:30
Tickets
£26.00