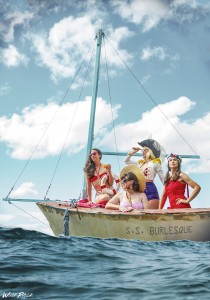 Welcome aboard the SS Burlesque and experience The Voyage of the Naughty Yacht! Cabaret and Cocktails is sure to delight all of your senses as we take a fantastical trip around the world! Let us entertain you as we voyage to far-off exotic locales and explore the world Burlesque-Style!
Our Cruise Director will guide you through the excitement both on and off the ship. Special guests include: Captain Ted Anderson, The Bar Backs, Margot Rita, and more!
One-night-only, at the home of burlesque on the South Side: ProArts Playhouse in Azeka Makai.
August 31, 2019
- Show starts at 8pm, boarding begins at 7:30pm.
Tickets
Reserve your stateroom now for $30
Get front-row, VIP treatment for $45