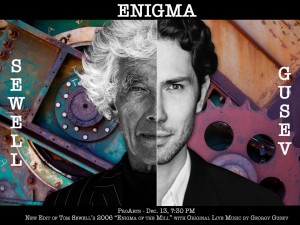 Please note NEW DATE AND TIME:
Friday, December 13th at 7:30pm
Tickets $50
Celebrated Cellist
Georgy Gusev
returns to ProArts for one show only after his smash engagement with Jacopo Giacopuzzi in October. 
This time around, Georgy joins forces with acclaimed Maui artist Tom Sewell to present a mutlimedia feast for the senses unlike anything ever presented on the ProArts stage.
Please join us for this very special performance. 
Sewell presented "Enigma of the Mill" in 2006 at the Schaeffer International Gallery at the Maui Arts and Cultural Center. It was a multimedia installation utilizing multiple projectors which sprawled out images as large as 18' by 120' throughout the gallery. The first Enigma gave audiences an interesting new perspective of the activity inside Maui's sugar mills. Sewell is an expert in finding art in unexpected places.
This completely new version is created in collaboration with world famous composer and cellist, Georgy Gusev. With the talents and gifted hands of Gusev, Enigma is becoming completely transformed with his spectacular and original soundtrack created entirely for this event.
"Behind the men, swirling smoke, sunlit steam, and showers of green sparks give the factory the feel of Titanic's engine room, or of a battle-weary starship undergoing repair." -Sewell
To explore more work created separately by Sewell or Gusev, you can check out their websites below:
Tom Sewell: 
https://www.tomsewell.com/
Georgy Gusev: 
https://www.cellodrive.com/