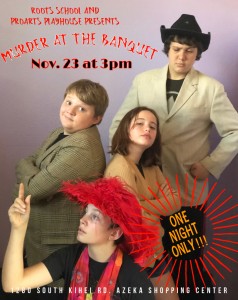 Saturday, November 23rd at 3pm

Roots School and ProArts Playhouse present "Murder at the Banquet"

One show only!
This lighthearted and humorous send-up of famous detectives dishes out a bountiful feast of wisecracks seasoned with physical comedy!  The International Association of Mystery Solvers is hosting an awards banquet for the 'world's greatest detectives.' As Foster Holmes, Sherlock's descendant, steps up beside the host to speak, Jenny Watson bursts in protesting her ancestor's role as Sherlock's sidekick!  Alas, the lights go out, and, when they return, the banquet's host is dead and the prize money is missing.  It's time for Foster and Jenny to team up with an aging British sleuth, a forgetful gumshoe and a hillbilly sheriff to solve this crime.
Tickets 
$15 Adult
​​​​​​​$10 Kids (under18)