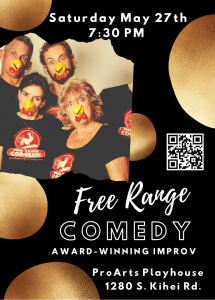 Every month! Next show, Saturday, May 27th at 7:30pm
This wickedly funny improv troupe specializes in "Who's Line Is It Anyway?" short-form improv. You'll laugh your tailfeather off!
Every Chick in the Book! Join Free Range Comedy at Pro Arts Playhouse. Show begins at 7:30, seating begins at 7pm. So funny you'll laugh your feathers off for the cheep, cheep price of $15.
Additional Shows:
June 24th at 7:30pm
July 29th at 7:30pm
Tickets: $15

Run Time: 90 minutes with NO INTERMISSION