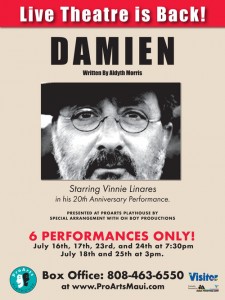 LIVE THEATRE IS BACK! 



ProArts and Oh Boy Productions present the 20th Anniversary Production of 
Damien starring Vinnie Linares
Aldyth Morris's beloved ode to the indomitable nature of the human spirit finds Father Damien, the sainted priest of Moloka'i, awakened from his deathly slumber, journeying through his turbulent and compelling life while answering his detractors and critics, and eventually returning home again. After lauded turns as Damien throughout the islands, the mainland, and Europe, including at Kalaupapa itself, Linares at last returns to his theatrical home here at ProArts, for the 20th Anniversary of a performance the Maui News called "more than theater. It is an affirmation of how powerful devotion can be." 
Run time: 70 minutes with

NO INTERMISSION


20 minute Optional Question and Answer session to follow performances on 7/18 and 7/23



Tickets $30
For information on our Access for All initiative, brought to you in part by the Langer Family and by
Ray Chin

,
please go to
ProArtsMaui.com/Access-for-All/
A selection of Maui Wow Wee Candy and Grandpa Joe's Popcorn to enjoy during the performance 

via advance purchase HERE only

.

Simply place the order for the same date as your show tickets, and your purchased concessions will be waiting for you on the table at your seating module when you arrive!

If you are unable to find a seating module that accommodates your seating needs, please contact us at 808-463-6550. 
***Please be aware that b
y entering the ProArts facility, all individuals, including staff, performers, volunteers and patrons voluntarily assume all risks related to possible exposure to COVID-19. Patrons are required to follow all CDC, local and state guidelines regarding masks and social distancing between groups/parties at all times while on premises. Patrons will not be allowed  backstage or in restricted areas for any reason. There will be no meet & greet following the performance.  Once seated, patrons will not be allowed to move to another seat in the auditorium, except as required for accessibility accommodations. Following the conclusion of the performance, house staff will release the audience by rows to assist in social distancing while exiting the theater. Patrons will not be allowed to leave their seats until released by house staff.
For detailed information on our Safety Procedures and Protocols, click
HERE
.
For those who are unable to attend the live run of the show, tickets are still available to view the show in it's online version at our 

Online Show Ticket page

. The online show will be released within a month of the live run.