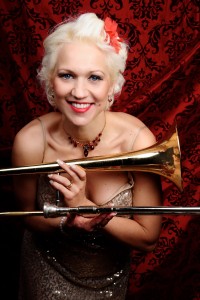 Friday, November 12th at 6pm and 8pm
and Saturday, November 13th at 6pm
ProArts Playhouse, Hawaii Jazz & Global Media Productions present Sweden's Gunhild Carling, a world-renowned jazz musician and multi-instrumentalist who has featured with Scott Bradlee's Postmodern Jukebox, among others. Famous for her ability to play three trumpets at the same time, Gunhild excels at trombone, trumpet, and even bagpipes. She often showcases all of her talents in one song, including singing and breaking into a tap dance.
With Media Partner Mana'o Radio.
Run time: 70 minutes with NO INTERMISSION

Tickets: $45 if purchased by Nov 1st, $55 after Nov 1st

A selection of Maui Wow Wee Candy and Grandpa Joe's Popcorn to enjoy during the performance via advance purchase HERE only. Simply place the order for the same date as your show tickets, and your purchased concessions will be waiting for you on the table at your seating module when you arrive!

If you are unable to find a seating module that accommodates your seating needs, please contact us at 808-463-6550. 

Per County guidance, proof of vaccination or negative COVID test taken within 48 hours of attendance will be required for all persons entering the ProArts facility, including patrons.  (Subject to change.) Free testing available to be scheduled up to 10 days in advance HERE 

***Please be aware that by entering the ProArts facility, all individuals, including staff, performers, volunteers and patrons voluntarily assume all risks related to possible exposure to COVID-19. Patrons are required to follow all CDC, local and state guidelines regarding masks and social distancing between groups/parties at all times while on premises. Patrons will not be allowed  backstage or in restricted areas for any reason. There will be no meet & greet following the performance.  Once seated, patrons will not be allowed to move to another seat in the auditorium, except as required for accessibility accommodations. Following the conclusion of the performance, house staff will release the audience by rows to assist in social distancing while exiting the theater. Patrons will not be allowed to leave their seats until released by house staff.

For detailed information on our Safety Procedures and Protocols, click HERE.