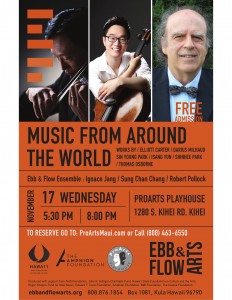 Wednesday, November 17th at 5:30pm and 8pm 
Hawai'i Symphony concertmaster and Maui favorite, Ignace "Iggy" Jang, will perform live on Maui for the first time since 2019. He will be joined by other members of Ebb & Flow Ensemble, Sung Chan Chang, Associate Principal 'cellist of Hawai'i Symphony, and composer/pianist, Robert Pollock.  MUSIC FROM AROUND THE WORLD features works by composers from Hawai'i, New York, France and Korea. Works to be performed are Isang Yun's Glissées for 'cello, Shinhee Park's Polyphonic Songs for violin (commissioned by Ebb & Flow Arts), Sin Young Park's Mirror Lake for violin and 'cello, Thomas Osborne's The Swaying, Waking Song of the Water (inspired by the Korean poet Kim Sowol), Robert Pollock's Piano Synergy #6 for piano, Darius Milhaud's Sonatine for violin and 'cello, and Elliott Carter's Epigrams for violin, 'cello, and piano (his last work).
Run time: 90 minutes with NO INTERMISSION



FREE. Reservations required.

A selection of Maui Wow Wee Candy and Grandpa Joe's Popcorn to enjoy during the performance

 via advance purchase HERE only. 

Simply place the order for the same date as your show tickets, and your purchased concessions will be waiting for you on the table at your seating module when you arrive!
If you are unable to find a seating module that accommodates your seating needs, please contact us at 808-463-6550. 
Per County guidance, proof of vaccination or negative COVID test taken within 48 hours of attendance will be required for all persons entering the ProArts facility, including patrons.  (SUBJECT TO CHANGE.) Free testing available to be scheduled up to 10 days in advance
HERE 
***Please be aware that b
y entering the ProArts facility, all individuals, including staff, performers, volunteers and patrons voluntarily assume all risks related to possible exposure to COVID-19. Patrons are required to follow all CDC, local and state guidelines regarding masks and social distancing between groups/parties at all times while on premises. Patrons will not be allowed  backstage or in restricted areas for any reason. There will be no meet & greet following the performance.  Once seated, patrons will not be allowed to move to another seat in the auditorium, except as required for accessibility accommodations. Following the conclusion of the performance, house staff will release the audience by rows to assist in social distancing while exiting the theater. Patrons will not be allowed to leave their seats until released by house staff.
For detailed information on our Safety Procedures and Protocols, click HERE.