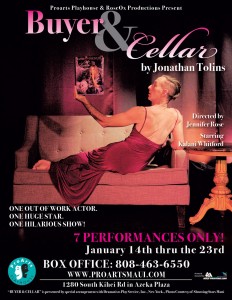 by Jonathan Tolins



7 Performances ONLY!

February 18th, 19th, 24th 25th, and 26th at 7:30pm and on February 20th and 27th at 2pm
What would happen if an out-of-work, aspiring actor was hired to run the private basement mall in Barbra Streisand's house?
 Buyer and Cellar
is an extremely funny one-man show in which the supremely talented Kalani Whitford plays multiple roles, examining life on the other side of the red carpet.
Tickets $30

Run time: 100 minutes with NO INTERMISSION
For information on our Access for All initiative, brought to you by Arnold Jacobson and Jennifer Meyers please go to 
ProArtsMaui.com/Access-for-All/
If you are unable to find a seating module that accommodates your seating needs, please contact us at 808-463-6550. 

Per County guidance, proof of vaccination or negative COVID test taken within 48 hours of attendance will be required for all persons 12 years of age or older entering the ProArts facility, including patrons.  (Subject to change.) Full details on current county mandates can be found

HERE.

Free testing available to be scheduled up to 10 days in advance 

HERE