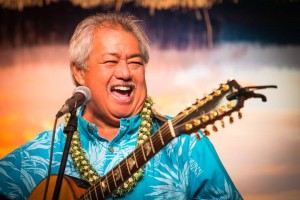 Friday, February 11th at 7pm
There's a reason he's been called Hawaii's Renaissance man:  George Kahumoku Jr. is a multiple Grammy Award winning master slack key guitarist, songwriter, world-traveling performer, teacher, artist, story-teller and writer, farmer and entrepreneur. He hosts a weekly show on Maui called George Kahumoku Jr's Slack Key Show: Masters of Hawaiian Music. Around all of this he cultivates taro and raises sheep on his upland Maui farm.

Nāmaka Cosma is an upcoming Hawaiian artist (guitarist and vocalist) based in Maui. Her father was Pekelo Cosma, a renowned slack-key guitarist and Nā Hoku award winner who was born and raised in Hāna, Maui. She grew up surrounded by Hawaiian music, at the young age of three she was running up on stage to sing with her father. Nāmaka is now a Hawaiian Studies major and a graduate of the Institute of Hawaiian Music program at UH Maui College. She plans to follow in her fathers footsteps through learning the art of kī hōʻalu with her uncle Kevin Brown, and pursuing her passion of singing traditional Hawaiian mele.
Uncle George and Nāmaka will each play a set, to be followed by a Talk Story session with both artists

Free Admission

Run time: 2 hours, 10 minutes

If you are unable to find a seating module that accommodates your seating needs, please contact us at 808-463-6550. 
This Series has been made possible in part by a grant from the Hawai'i Council for the Humanities and the National Endowment for the Humanities. Any views, findings, conclusions, or recommendations expressed in this Series do not necessarily represent those of the Hawai'i Humanities/NEH.

Per County guidance, proof of vaccination or negative COVID test taken within 48 hours of attendance will be required for all persons 12 years of age or older entering the ProArts facility, including patrons.  (Subject to change.) Full details on current county mandates can be found HERE. Free testing available to be scheduled up to 10 days in advance HERE