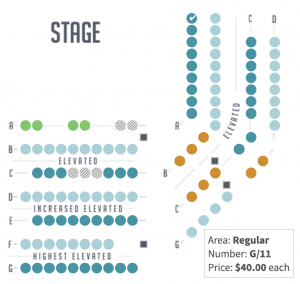 As of May 1st, ProArts will have a slightly updated seating plan as follows:
Premium Seating: Extra large and comfy front row seats from A1 to A6 with side tables
Preferred Seating: Best-view seating in either the Front row (seats A7 to A15) OR the front row of any elevated section
Regular Seating
Discounted for Slightly Obstructed View
Prices vary by show. To find out what any seat's section and price is, simply hover your pointer arrow over the seat to view a box with the description for that seat. Mahalo for your patience as we update our systems to better serve you and the Maui community at large!
For wheelchair access, select seats in Row A or seats B11 through B23. Please also call us ahead of time so that we can assist upon arrival. For information on our Access for All initiative, brought to you by Arnold Jacobson and Jennifer Meyers please go to 
ProArtsMaui.com/Access-for-All/