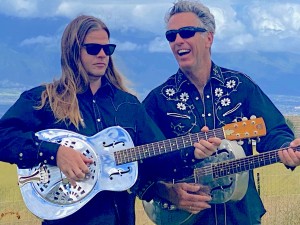 Saturday, March 5th at 7:30pm
Presented by Proarts Playhouse and Mana'o Radio
Join these accomplished musicians for an intimate evening of song and celebration, serving up a combination of original music and favorite songs with sublime harmonies and exquisite musicianship. Featuring blues master Jimmy Dillon on acoustic guitar, multi-instrumentalist extraordinaire Dayan Kai on guitar, piano, and reeds.
Enjoy this video and get a taste of their sound: 
https://www.youtube.com/watch?v=4e1DglQLs8U
Tickets: $30

Photo credit: Maya Bendotoff 
Run time: 90-110 minutes with NO INTERMISSION

For information on our Access for All initiative, brought to you by Arnold Jacobson and Jennifer Meyers please go to ProArtsMaui.com/Access-for-All/

***Please be aware that by entering the ProArts facility, all individuals, including staff, performers, volunteers and patrons voluntarily assume all risks related to possible exposure to COVID-19. Patrons are required to follow all current CDC, local and state guidelines regarding masks and social distancing between groups/parties at all times while on premises. Patrons will not be allowed  backstage or in restricted areas for any reason. There will be no meet & greet following the performance.