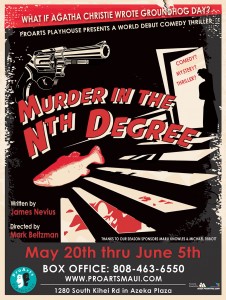 PERFORMANCE DATES:
May 20th – June 5th, 2022 
Thursdays, Fridays, & Saturdays at 7:30pm, Sundays at 2:00pm 
*Talk-story with the author after the show on Sunday, May 29th

The long-awaited production of the winner of the First ProArts Playwriting Competition!
What if Agatha Christie wrote Groundhog Day? This rip-roaring new comedy by local Maui writer and musician, James Nevius, will keep you on the edge of your seat and guessing what will happen next... and next... and next....
DIRECTED BY:
 Mark Beltzman
Tickets $25-$35
Special Kama'aina Night on Saturday, May 21st! All tickets $5 off! ($20-$30)
WARNING: Sound effects used simulating gunfire.
About the author: Playwright James Nevius — known to many on Maui as a musician and radio personality — started writing in middle school, alternating between fiction, poetry, and songwriting. His first play, a one-act spoof of everything from Sophocles to Harold Pinter to Arthur Miller, was performed in high school. In college, he combined his love of language and history, writing his undergraduate thesis at New York University on methods of teaching Shakespeare's Hamlet. He also studied playwriting in New York with Jeffrey Stocker and Christopher Durang.
An avid historian, he is the author, along with his wife, Michelle, of numerous books about New York, including Inside the Apple: A Streetwise History of New York City (Simon & Schuster), now in its 11th printing. He writes frequently about urbanism and architecture for The New York Post and Curbed.com among other publications.
He is putting the finishing touches on a novel, Chasing Shadows, about stolen Old Master paintings and a time-traveling FBI agent.
 
For information on our Access for All initiative, please go to ProArtsMaui.com/Access-for-All/
*Patrons are required to follow all current CDC, local and state guidelines while on premises.