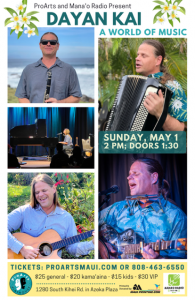 Sunday, May 1st at 2pm 
Presented with Mana'o Radio
Maui's own 
singer/songwriter
 and multi-instrumentalist extraordinaire Dayan Kai will deliver original songs and old favorites that weave across the blues, soul, roots, Americana and Hawaiian traditions. This is a unique opportunity to see an international touring artist perform on an array of musical instruments across the keys, strings, and winds families.
"Dayan Kai is a talent mightily personified and an absolute joy to experience."
TICKETS 
Kama'aina ONLY $20!!!
Regular price $25 
$30 VIP (best seating positions in small groups with their own tables)
$15 Keiki
Singer/songwriter Dayan Kai serves up the best of many worlds with his expansive voice and phenomenal musicianship. His depth of musicality and genre spans from the blues and jazz to Americana, folk, bluegrass, pop, world, rock and reggae traditions. He plays just about every instrument you can think of.
Maui born, Dayan Kai was raised primarily in California and has resided primarily in California, Washington, and Maui over the past few decades. He is the former Music Director for "Burn'n Love," an Elvis Presley tribute at The Maui Theater in Lahaina. Dayan has played at many notable festivals, including the Sister's Folk Festival (Sisters OR), American River Music Festival (Lotus, CA), Strawberry Music Festival (Groveland, CA), Kate Wolf Memorial Festival (Laytonville, CA), High Sierra Festival (Quincy, CA),  Art on the Green (Coeur d'Alene, Idaho), Sandpoint Music Festival (Sandpoint, ID), and Summerfest (Milwaukee, WI), various festivals in Canada and Australia, and many, many more.  
Dayan has self-produced and released seven solo albums including "To Be Free," "Resonate," "Treat A Stranger Right," "Livin' Like A Rat Again," "The First Twelve Years," "All Kai," "Songs of Sunday", as well as two albums with his former band Water, "Scrape the Sun" and "Look out the Window." In 2010, he recorded the duo album "Make It Rain" with frequent collaborator Keith Greeninger. The duo also collaborated on "Looking for a Home," which became the most popular song in Blue Coast Records' history. Dayan Kai has contributed his talents on a multitude of albums in the folk, jazz & world genres, including "The Tractor" song from the movie Animal Crackers.  
Go to dayankai.com to find out more about Dayan Kai's music, and make sure to follow him on YouTube, Patreon, Spotify, Apple Music, Instagram, and Facebook.  
For information on our Access for All initiative, please go to ProArtsMaui.com/Access-for-All/
*Patrons are required to follow all current CDC, local and state guidelines while on premises.