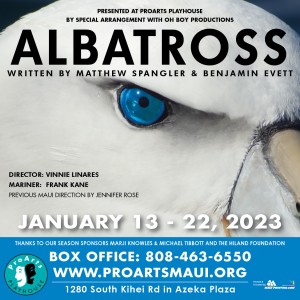 7 Performances Only!
January 13th through January 22nd, 2023
Thursdays, Fridays, & Saturdays at 7:30pm, Sundays at 2:00pm 
January 22nd SPECIAL: Talk Story Session after the show with the playwright, Maui's own Matthew Spangler, whose The Kite Runner recently ran on Broadway!

Presented by ProArts and Oh Boy Productions
Written by Matthew Spangler
Directed by Vinnie Linares
Starring Frank Kane
An encore performance of the 2019 production awarded by the Maui News as the "Best Play" and "Best Actor" of that year, calling Frank Kane's work, "the performance of the decade." Written by Maui's own Matthew Spangler, whose 
The Kite Runner
recently ran on Broadway. 
This fast-paced adventure story explores the themes of regret, isolation and the interconnected relationship between human beings and the natural world we inhabit. It takes its inspiration from Coleridge's Mariner, an 18th-century sailor who is cursed with immortality and is thrust into the modern world. Written and performed as a rollicking sea yarn, 
Albatross
 delivers a profound and relevant message about mindfulness and the effect of our thoughtless actions on all living things. The audience sets sail in a spare but visually thrilling stagecraft, powered by the latest multimedia technology. Immersed in this sensory otherworld, audiences come to find out who the Mariner is, why he must forever tell his story, and what he is searching for as he roams the earth.

Tickets $25-$35
(VIP tables include best-view seats in small groups with their own side tables)
Thursdays are Kama'aina Nights for 10% off!

Run time: 70 minutes

WARNING: Contains mature language, descriptions of violence, and the sound of gunfire

For information on our Access for All initiative, please go to ProArtsMaui.com/Access-for-All/
*Patrons are required to follow all current CDC, local and state guidelines while on premises.