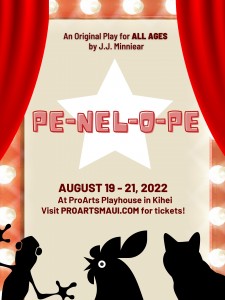 Friday, August 19 at 7:00pm
Saturday, August 20th at 2:00 and 7:00pm 
Sunday August 21st at 2:00pm

Written by J.J. Minniear

When young Penelope lands herself in detention, her dream of being a singer suddenly becomes a lot more challenging. With a little help from some wild and wacky visitors, Penelope must overcome one obstacle after another as she follows her courageous heart in this hilarious and inspiring new play by local playwright J.J. Minniear.

Starring: Karen Romero, Genie Calagna, Lia Krieg and James Minniear 

TICKETS
Starting at $16

Run time: 70 minutes with NO INTERMISSION

*An independent production. 
*Patrons are required to follow all current CDC, local and state guidelines while on premises.