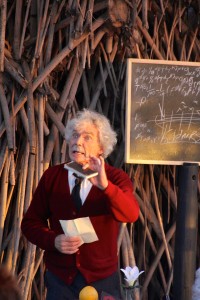 Rick Scheideman returns to Maui for a double feature of One-Man Shows:

"Einstein: A Play in Two Acts
by Gabriel Emanuel. Performed with his permission.
Sunday, August 21st at 6pm
Saturday, August 27th at 2pm
Run time: 90 minutes with INTERMISSION

"Sam Clemens and the Real Mark Twain"
adapted by Cliff Jewell and Rick Scheideman
Saturday, August 27th at 7:30pm 
Thursday, September 1st at 7:30pm
Run time: 100 minutes with INTERMISSION
Tix just $22, with kupuna and keiki discounts available. 
OR see both shows for only $15 per ticket for a total of 2 shows for $30!
The brilliant Rick Scheideman returns to Maui in not one, but two of his celebrated one-man shows!

"From Mark Twain to Einstein to Sitting Bull, this actor has the ability to look and be almost unidentifiable from one show to the next," wrote local theater critic Michael Pulliam. "If acting skill combined with a Lon Chaney-esque Man of a Thousand Faces equals acting brilliance, then Scheideman is the best actor on Maui."

"Sam Clemens and the Real Mark Twain" is an incarnation of "Sam Clemens and the Real Mark Twain," written by actor and dramatist Cliff Jewell. The original theater piece explores the episodes that inspired Twain's literary genius: his childhood on the Mississippi River, his adventures out West and his love affair with Olivia "Livy" Langdon Clemens. The performance also includes snippets from Twain's writings, including "Life on the Mississippi," "Letters from the Earth" and "Huckleberry Finn." In his version of the show, Scheideman adds a Maui element, drawing on Twain's experiences "roughing it" in Hawaii.

In "Einstein: A Play in Two Acts", attendees can expect to learn about this great German-born theoretical physicist while exploring the theory of relativity and quantum mechanics through an engaging dramatic performance.

"Barefoot and rumpled, he stands before the chalkboard puzzled, scratching his head. He rubs out an equation and steps back to consider. Then, with chalk in hand, he writes a new equation in an effort to understand the universe. Pleased with himself, Albert Einstein turns toward the audience and speaks."

Run time: 100 minutes with NO INTERMISSION

*Patrons are required to follow all current CDC, local and state guidelines while on premises.