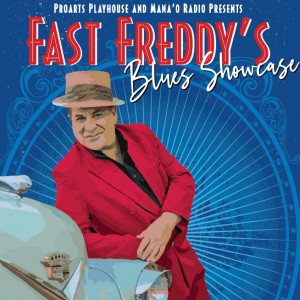 Saturday, October 15th at 7:30pm
Fast Freddy and Blue Lava Blues Band, one of Maui's favorite groups, is back and they're bringing a very special guest...
Mitch Woods has been the torchbearer of a great American blues musical heritage for two decades.
Taking inspiration from the great jump n' boogie outfits of the late 40s and early 50s, he breathes fresh life into the music that gave birth to rock n' roll. Woods styled his group, his Rocket 88s after the jumpin' n' jivin', shoutin' n' honkin', pumpin' n' poundin' bands of Louis Jordan, Wynonie Harris, Joe and Jimmy Liggins, Amos Milburn, and Roy Milton. Adding a healthy dose of New Orleans rhythm and blues, piledrivin' piano, and some of his own contemporary playful lyrics, Woods and His Rocket 88s forge their own brand of music they call "rock-a-boogie."

Plus call for info on Mitch's Oct 16th piano master class, right here at ProArts!
Tickets: $33
Kama'aina Price: $28 with State of Hawai'i ID

Run time:  around 2 hours with intermission
For information on our Access for All initiative, please go to
ProArtsMaui.com/Access-for-All/
*
Patrons are required to follow all current CDC, local and state guidelines while on premises.