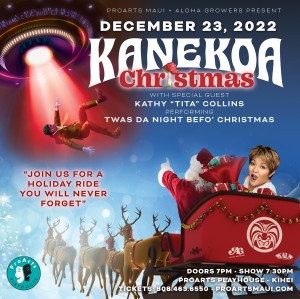 Friday, December 23rd, 2022 at 7:30pm
with special Guest and MC, Kathy "Tita" Collins performing  " Twas Da Night Befo' Christmas"
Get ready for the ultimate Holiday ride with the ukulele masters of Kanekoa. Weʻve abducted all the great Holiday classics and are gonna take you on a Kanekoa holiday ride through space!! Nothing is safe here, including Charlie Brown and his Peanuts gang. Come enjoy Christmas classics with some original Kanekoa tunes mixed in. Garrins Ball Berrings youʻre also gonna love "Twas Da Night Befo Christmas" performed by the one and only Tita Clause who will also be MCʻing the show!
Maui's Nā Hōkū Hanohano Award winning band Kanekoa is quickly becoming a global phenomenon. Powered by electric ukuleles and exotic rhythms, these ukulele masters ride the wave of Hawaiian roots with jam band energy, creating a sound they call Hawaiian jam-rock. For the last 25 years audiences never fail to swoon over their soulful originals and crafty covers interpreted with pure originality. The Grateful Dead's drummer Bill Kreutzmann goes so far as to call them, "the Hawaiian Grateful Dead." David Hidalgo of Los Lobos says, "These guys scare me. They are that good." They recently graced the cover of Ukulele Magazine and were referred to as "Hawaiian Trailblazers". Once you hear Vince Esquires lead ukulele, you'll know why he was invited to play with the Allman Brothers Band. 
Tickets $40 General Reserved Seating
$60 VIP (swag bag plus best-view seats in small groups with their own side tables)
Run time:  2 hours - with intermission

For information on our Access for All initiative, please go to ProArtsMaui.com/Access-for-All/
*Patrons are required to follow all current CDC, local and state guidelines while on premises.