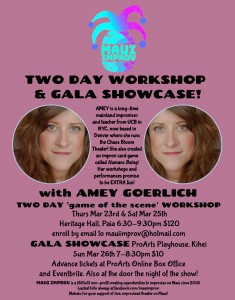 The last Sunday of every month!
Doors at 6:30pm, Start time 7pm
Maui Improv is a local nonprofit organization creating opportunities for beginner and experienced performers alike to Improvise on Maui through drop-ins, special guest workshops, and showcases!
March 26th will be a special Gala Showcase with Amey Goerlich!
Tickets $10  (no fees)
Run time:  approximately 70 minutes - with NO intermission

*An independent production. The ProArts Access for All Program does not apply.