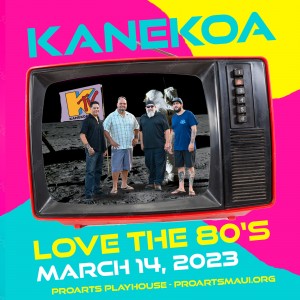 Tuesday, March 14, 2023 at 7:30pm

Welcome to the Kanekoa Experience. Delivering a fresh ukulele-powered experience once a month at one of Mauiʻs finest listening rooms, the ProArts Playhouse in Kihei. Kanekoa will always mix things up and offer little surprises to make each one of their shows unique and special… That being said, you never know whatʻs gonna happen until you're there. Tickets sell fast so grab them early! This show will be inspired by our favorite decade the 1980ʻs!!! Feel free to get dressed up and join the party!
Kanekoa is one of Hawaii's premier live music experiences, playing what is described as "ukulele-powered Hawaiian jam-rock."
"Kanekoa put on one of the best shows to ever hit out stage" —Lin McEwan, Executive Director at ProArts Playhouse
Tickets $40
$60 VIP (swag bag that includes a signed show poster and some other goodies, plus best-view seats in small groups with their own side tables)
Run time: 2 hours with 15 Min intermission
For information on our Access for All initiative, please go to ProArtsMaui.com/Access-for-All/
*Patrons are required to follow all current CDC, local and state guidelines while on premises.