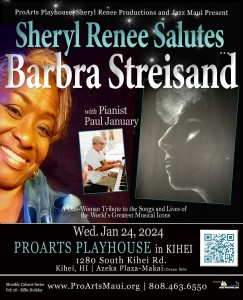 Next Show:

Wednesday, January 24th at 7pm 
Sheryl Renee Salutes Barbra Streisand, 

featuring Paul January on piano
A One-Woman Tribute to the Songs and Lives of the World's Greatest Music Icons
About the Series:
Sheryl Renee Salutes…
A One-Woman Tribute to the Songs and Lives of the World's Greatest Music Icons.
Ever wonder how your favorite musical artists got their start or what their career highs and lows were? Do you love hearing the hit songs that made them famous and are the soundtrack of your lives? Take a melodic trip down memory lane as Sheryl Renee (known as the Lady with the Golden Voice) shares how these incredible icons influenced her lifelong musical upbringing and career. The award-winning actress and producer is joined by a rotating cast of your favorite Maui musicians. To date Sheryl has paid tribute to over a hundred of the world's most renowned music icons, including Ella, Aretha, Luther, Stevie, Elton, Barbra, Frank, and more! This one of a kind tribute show is not to be missed!
In 2004 the songstress Sheryl Renee independently produced the CD Sheryl Renee and her Salute to the Legends, 70's Popular. Click here for a free download and a taste of what's to come! 
January 24 2024

-

 
Barbra Streisand, featuring Paul January on piano
February 28, 2024 -
Billie Holiday
March 27, 2024 -
Frank Sinatra
April 24, 2024 -
Carole King
May 22, 2024 -
Stevie Wonder
June 26, 2024 -
Nina Simone
July 24, 2024 - 
Aretha Franklin
Tickets 
Premium Seating: $35 Extra large and comfy front row seats from A1 to A6 with side tables
Preferred Seating: $30 Best-view seating in either the Front row (seats A7 to A15) OR the front row of any elevated section
Regular Seating: $25
Discounted for Slightly-Obstructed View: $20
OR buy a Sheryl Renee 3-Show Package for $5 off each show at any seating tier! 
Show packages available by calling the box office at 808-463-6550
A special note from the artist...
"On August 8th, the unthinkable happened on this sacred island...Lahaina town experienced a tragedy off the scales of understanding. Lives, homes, history, businesses, jobs and more were lost. Lahaina will rebuild on its terms and when it does, they will be surrounded with the spirit of giving and aloha, as will those affected by fire in Kula. I will proudly be here to offer all I have to the beautiful people of Hawaii.  At each Sheryl Renee Salutes performance, we will raise funds to assist one professional Maui musician/singer, whose livelihood was affected. Peace, love and blessings. Sheryl."
Run time:  75 minutes - no intermission
About the artists:
Sheryl Renee
The dynamic versatility of this tenacious Colorado talent comes from a lifetime in and around the entertainment business. An audience favorite, Sheryl moves effortlessly between music genres, artistic avenues, and her entrepreneurial pursuits. Known as "The Lady with the Golden Voice", Sheryl's vocals can be heard on hundreds of recordings and commercials. From performing for President Barack Obama, the Colorado Symphony Orchestra, to the over 40 theatrical productions this award winning actress has appeared in, Sheryl has enjoyed a dazzling career and has no intention of slowing down, any time soon. More at www.sherylreneehawaii.com
For information on our Access for All initiative, please go to ProArtsMaui.com/Access-for-All/