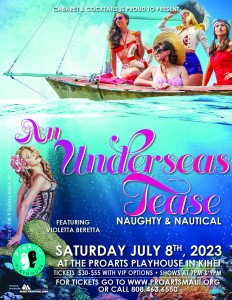 Saturday, July 8th 
TWO SHOWS: 7pm and 9pm
Cabaret & Cocktails presents An Underseas Tease: Naughty and Nautical at ProArts on Saturday July 8th! Join your favorite Maui Burlesque performers (and some special guests including Violetta Beretta) for a rollicking romp over, under, and around the high seas. Ahoy! Avast! and Thar She Blows…you away! You're bound to have  fun on this titillating adventure. 
Will we have mermaids? Well…duh. 
Will we have a giant vengeful she-kraken viciously sinking a submarine full of seamen? You'll have to get tickets to find out.
There are two sailings of this saucy ship: 7pm and 9pm. 
Tickets
Premium Seating: $55 Extra large and comfy front row seats from A1 to A6 with side tables
Preferred Seating: $50 Best-view seating in either the Front row (seats A7 to A15) OR the front row of any elevated section
Regular Seating: $35
Discounted for Slightly-Obstructed View: $30
Run time:  75 minutes - no intermission
WARNING: Mature content. 18 and older ONLY
Photo credit: Brett Wulfson (WulfPack)
For information on our Access for All initiative, please go to ProArtsMaui.com/Access-for-All/