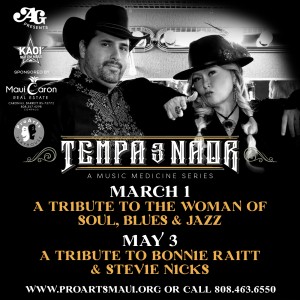 Next Show: Friday March 1st at 7:30 pm 
A Tribute to the Woman of Soul, Blues & Jazz...
Special guest TBA!
Tempa and Naor and Aloha Growers present a unique musical series exploring influential genres and artists that have shaped Tempa & Naor's musical vocabulary, leaving us all with a heavy dose of music medicine. Each show will feature a different special guest and audiovisuals to set the mood.  
Upcoming Dates:
Wednesday May 3rd at 7:30 pm
A Tribute to Bonnie Raitt & Stevie Nicks
Special guests TBA!
Tempa & Naor are a singer-songwriter couple that has been composing music together for 13 years. Based on Maui, Hawaii, they have been creating a unique blend of soul and folk music that speaks to the heart. Their music draws from personal experiences, weaving powerful and honest lyrics that explore themes of transformation, love, loss, and release. They believe music is medicine and they live to share it with the world.
Tickets
Premium/Preferred Seating: $35 Best-view seating in either the Front row OR the front row of any elevated section
Regular Seating: $30
Discounted for Slightly-Obstructed View: $25

Buy a Tempa and Naor 3-Show Package for $5 off each show at any seating tier! 
Show packages available by calling the box office at 808-463-6550
Upcoming series show dates: TBA

Run time:  90-120 minutes - including intermission