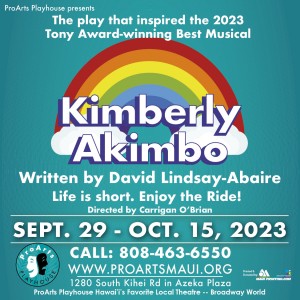 September 29 through October 15, 2023
Thursdays, Fridays, & Saturdays at 7:30pm, Sundays at 2:00pm 
SPECIAL NOTE: As we open our 2023-24 Season, we hope to provide a space for healing, for gathering to share each other's laughter and tears. We hope that our Season opener Kimberly Akimbo, the beautiful and funny tale of a young woman finding light in the darkest of circumstances, brings some much-needed joy and catharsis to our beloved community…
Tickets $25-$40Thursdays are Kama'aina Nights for 10% off!


Or call 808-463-6550 to buy a Season Ticket Show Package for $5 off each seat for each ProArts Theatrical Season show at any seating tier! 

WRITTEN BY: 
David Linsday-Abaire
DIRECTED BY:
   Carrigan O'Brian
STARRING:
Ally Shore, J. Scott McLelland, Karen Romero, Micah Oberg, and Angelique Scarpelli
This hilarious and heartrending dark comedy, set in the wilds of suburban New Jersey,
inspired the 2023 Tony-Award winning Best Musical
Kimberly Akimbo
 on Broadway and tells the story of a teenager with a rare condition that causes her body to age 4x faster than it should. When she and her family flee Secaucus under dubious circumstances, Kimberly is forced to reevaluate her life on the brink of her 16th birthday. All the while, contending with her hypochondriac mother, a rarely sober father, a scam-artist aunt, her own mortality and, most terrifying of all, the possibility of first love.
"The Comedy of the Year. A haunting and hilarious new play. Mr. Lindsay-Abaire is an expert at tweaking, skewing and finally inverting established formulas. His plays tend to slide right out of predetermined pigeonholes. KIMBERLY AKIMBO is at once a shrewd satire, a black comedy and a heartbreaking study of how time wounds everyone."
  -The New York Times
Advisory: Mature language and content.
Run time: 
Just over 2 hours, including a 15-minute intermission
For information on our Access for All initiative, please go to ProArtsMaui.com/Access-for-All/