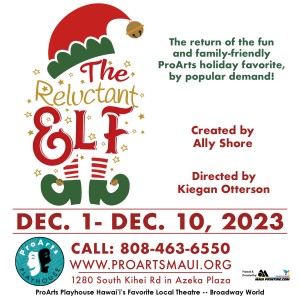 December 1 through 10th 
9 Performances Only!

Thursdays and Fridays at 7:30pm
Saturdays at 4:30pm & 7:30pm
Sundays at 2pm
*Special Sensory-Friendly Performance on Saturday, 12/2/23 at 2pm (Reservations for Sensory-Friendly performance by phone only)
Our 'buddy' Steve the Elf is back by popular demand in our original holiday adventure jam packed with all your favorite songs of the season!  Join us for this joyous family friendly celebration of the holiday featuring some of Maui's favorite performers.  Sing along, have a cup of cheer and remember what it was like to be a child during the holidays.
Come early for caroling around our baby grand piano with the one and only Louise Lambert!
Tickets
$25-35 Adults
$12-25 Teens
$10-20 Keiki
CREATED AND PRODUCED BY: 
Ally Shore and Katy Vincent
DIRECTED BY:
   Kiegan Otterson
Run time: 50 minutes with NO INTERMISSION

On Saturday December 2nd at 2pm, we will have a special Sensory-Friendly Performance of The Reluctant Elf. 
Adaptations will include:
-A shortened run time
-Lower sound and light levels; all strobe light effects removed.
-House lights on at a low level throughout the performance.
-Audience members are welcome to enter and leave the theater as needed.
-Earplugs available.
-Audience members are welcome to bring their own manipulatives, seat cushions, comfort objects, headphones, and other support items to the show.
-ASL interpretation is available. If you would like to be provided with this service, please notify the Ticket Office when you purchase your ticket.
Reservations for Sensory-Friendly performance by phone only; please call 808-463-6550.


Family Resources:
The Reluctant Elf  Social Story
The Reluctant Elf  Parent Tip Sheet