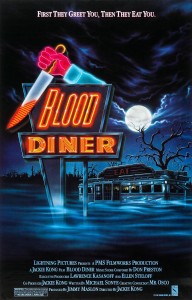 Saturday, November 18th at 7:30pm
We're screening the cult classic horror comedy, followed by a Q&A and comic book signing by director Jackie Kong!
Presented with Kong Comics LLC and Maui Comics &Collectibles. 
Majority of proceeds to benefit Maui Rapid Response (www.mauirapidresponse.org)

"First they greet you, then they eat you!" the poster art for Jackie Kong's BLOOD DINER so cleverly states. Before sitting down with a movie like BLOOD DINER you know exactly what you're in for, don't you? Think again. Kong's film centered around two brothers slaying women and serving them up as menu items in their restaurant per orders from the brain of dearly departed Uncle Anwar – who resembles something out of Frank Henenlotter's cinema universe – all in a ploy to resurrect the Egyptian Goddess Sheetar. Nothing is off limits in Kong's film, stretching the very limits of good taste (or what tastes good), culminating in a climax that has to be seen to be believed.
Tickets
$20 Standard Seating
$30 Preferred Seating: Best-view seating in either the Front row (seats A7 to A15) OR the front row of any elevated section
$35 Premium Seating: Extra large and comfy front row seats from A1 to A6 with side tables
Run time: 90 minutes, followed by a 30 minute Q&A with director Jackie Kong
Warning: Mature content. Advise 18 or older.
For information on our Access for All initiative, please go to ProArtsMaui.com/Access-for-All/