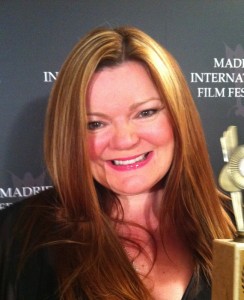 Deborah Hadfield wrote, produced and directed We Too Together. She was inspired by her personal experience of friends with PTSD and special needs.  
Repton is very much home territory for the  award-winning director who was born in Burton 0n trent which is still her home. She has worked in film and television for several decades and
We Too Together
 was filmed on the playing fields of Repton School; and also features the world famous arch which is the inspiration for The Repton Filmfest
ARCHIE
awards.Her movies have screened globally, including premiering at the Cannes Film Festival. Her first short firm, Handcuffed, starring Toby Kebbell, picked up awards at the Silent River Festival in Los Angeles. She won Best director for her feature The Kindness of Strangers at the International Filmmakers Festival. At the Madrid International Film Festival, she picked up the Rising Star award. The script for her feature Sweetest Love has been honoured at the Nice International Film Festival. 
We Too Together centres on Rob Hardy and the secret he has hidden all his life. The battle between his heart and head forced him to the edge of sanity. Wrestling with memories of how his life changed as a child and a man he searches for peace. When his Dad returned from war with PTSD they're forced to build a new life together. Learning martial arts helps them calm their demons. Meeting Gabriela he found Love and grace. Her faith and acceptance of Rob filled him with hope. As a refugee she has suffered the horrors of war. But Rob's father believes serving is the only way to honour his family. Now he must choose what kind of man he wants to be. Can he find the courage to face his secret, accept himself and make the right choice?
Fri 8th July at 20:00
Tickets £7.50 with 10% student discount available.
CLICK ON What's On (Top Left) for listing of all festival events
YOU ARE VIEWING THE REPTON FESTIVAL PROGRAMME AND BOOKINGS SITE 
CLICK HERE TO RETURN TO THE FESTIVAL SITE