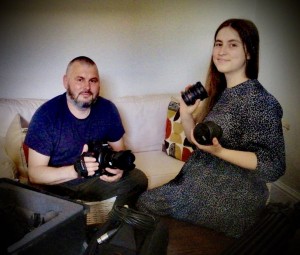 I spent five years as the senior news and politics programs videographer on the Ukrainian TRK-6 channel in the Donbas region. I was forced to leave the Donbas region in 2014 because of the threat to my life and my family and the subsequent seizure of the TV channel. I continued to shoot in the war zone and tell viewers about other events related to the war in Donbass for the Ltava channel. I continued to film in the Donbas war zone for the Ltava014 channel which is based in Poltava in central Ukraine. As a father of more than three children I was permitted to leave Ukraine in 2022 as a refugee following the Russian invasion. I am very grateful to the Theo Trust for facilitating and the UK for accepting me as a refugee and granting me the right to work so that I can support my family and develop my career. I will share a story about how the war affected my family. This story will be told by my daughter Ksenia, about what she had to go through and how her life has changed.
All proceeds from this event will be donated to the Ukrainian Appeal of The Theo Trust
which was established by Richard Theobald, the former Headmaster of Foremarke (Repton Preparatory School) and which facilitated the Yakutin family move to the UK. 
Sun 10th July at 11.45
Tickets: £10 (All proceeds donated to The Theo Trust)
£5 Student ticket available
CLICK ON What's On (Top Left) for listing of all festival events
YOU ARE VIEWING THE REPTON FESTIVAL PROGRAMME AND BOOKINGS SITE 
CLICK HERE TO RETURN TO THE FESTIVAL SITE
The Repton Litfest is sponsored by LCS Containers https://www.lcscontainers.com/   
and this event is sponsored by restructing & insolvency specialists OPUS LLP http://opusllp.com/restructuring-insolvency/