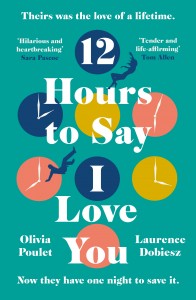 Olivia Poulet and Laurence Dobiesz are writers and actors based in London. Married for six years, they have written together for radio and screen.
12 Hours to say I love you
is their first novel described by Sara Pascoe as  'Hilarious and heartbreaking, a rollercoaster you won't want to get off'
Radio and screen writing includes
#blessed
, a comedy drama love story which was 'Pick of the Week' for BBC Radio 4. Their short film,
Deliver Me
, won the Special Jury Award at the 2020 London City Film Awards.
As an actor, Olivia is known for
THE THICK OF IT, IN THE LOOP, BACK, DOC MARTIN and HOLBY CITY
. Laurence is best known for playing Alexander Randall in
OUTLANDER.
Outstandingly entertaining this is a session not to be missed.
What's it all about?
- Two people. One love story. 12 hours to tell it. Whir, beep, click, breath. Whir, beep, click, breath. Pippa Gallagher is rushed in to hospital following a traffic accident. As Pippa lies unconscious, she is aware of fragments. The day she met Steve Gallagher, her best friend and the man who would become the love of her life. The heartbreak she felt that night as she got into her car, her eyes blurry from tears. Meanwhile Steve sits at her bedside, his eyes fixed on her pale, still face. He has no idea where his wife was going when she crashed. No clue as to why she became distracted behind the wheel. All he knows is that she is his world. And that he wasn't there when she needed him most. For the next twelve hours, Steve tells Pippa all the reasons he loves her. But is it too late? Can Pippa find her way back to him? Gripping, moving and beautifully observed, this is a love story told from both sides. 'A glorious love story with a heart of gold that you won't be able to put down' DEBORAH FRANCES-WHITE 'Not just a beautifully tender love story but also a wonderful journey of exaltation, desperation and heartbreak - lifeaffirming' TOM ALLEN 'Beautiful... This drowns in love' SIOBHÁN MCSWEENEY
Sat 9th July at 10.30
Tickets £7.50 with 10% student discount available.
CLICK ON What's On (Top Left) for listing of all festival events
YOU ARE VIEWING THE REPTON FESTIVAL PROGRAMME AND BOOKINGS SITE 
CLICK HERE TO RETURN TO THE FESTIVAL SITE
The Repton Litfest is sponsored by LCS Containers https://www.lcscontainers.com/