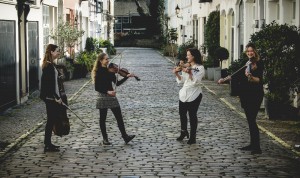 Tuesday 14th September 7.30pm - Project String Quartet, featuring Alkyona Quartet
 Beldam Hall, Repton Music SchoolTicket details:
Tickets: £15, including a glass of refreshment.
Full-time students and members of Repton School staff - free admission via
music@repton.org.uk
or 01283 559227
Repton is delighted to host the launch of Project String Quartet, bringing high-quality and engaging string playing to the heart of our school. The project will culminate in this concert in which the peerless Alkyona Quartet will present sublime chamber works by a range of composers through the ages.  
The Alkyona Quartet present fresh imaginative interpretations of both well-known and hidden gems of the string quartet repertoire. They are well known for their warm connection to audiences and vivacious performances, and are 'as vibrant and memorable as their 'Kingfisher' namesake'.  
They are Tunnell Trust Award Holders 2020/21 and Making Music Selected Artists 2020-2021, and have performed in many leading UK venues including St Martin-in-the-Fields, St John Smith Square and the Royal Albert Hall. They were New Generation Artists at the Stift International Music Festival 2019 and residents at Music at Brel the same year, as well as being featured at the Huygens Festival 2020 which was broadcast live on Dutch TV channel Midvliet.  
The quartet love collaborations across the arts and this year hold a residency at Leighton House Museum, London where they have been running events, concerts and salons both online and in person. They released their debut album, 'Intimate Letters' in June 2020 in collaboration with Cegin Productions.