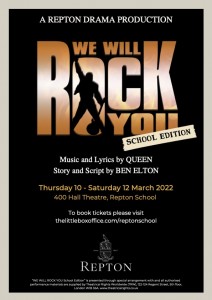 Repton School is delighted to present the Lent Term charity Drama Production WE WILL ROCK YOU.
Featuring more than 20 hit Queen songs including "Another One Bites the Dust," "Bohemian Rhapsody," "Killer Queen," "We Will Rock You," "Somebody To Love," "We Are the Champions," "Don't Stop Me Now," and many more. 
WE WILL ROCK YOU
follows two revolutionaries as they try to save rock 'n' roll in a post-apocalyptic world. In an age where algorithms predict our every preference,
WE WILL ROCK YOU
is a musical for our time: a fist-pumping, foot-stomping anthem to individuality.
Performances: Thursday 10 - Saturday 12 March 2022  | 7:30pm
Concession tickets are available for the following audience members: Under 16s, Senior Citizens, and Students. Ticket holders are required to provide proof of entitlement before the performance.
Please direct any production enquiries to theatre@repton.org.uk
All profits from ticket sales will be donated to the Lent Term charity.