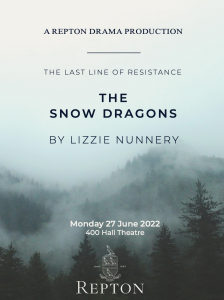 Repton School is delighted to present the B Block Summer Term Drama Production '
THE SNOW DRAGONS
' written by Lizzie Nunnery.
Raggi and her friends spend their free time in the woods and mountains around their sleepy fjord town playing games of Vikings, dragons and war.
When soldiers occupy the town, they watch from their hut in the mountains: their friends and families beaten, silenced, abducted… Let down by the adult world they form The Snow Dragons, 'the last line of resistance' carrying out sabotage missions. But this is no game, and true courage requires great sacrifice.
____________________
Foyer / Bar will open 45 minutes before the performance time.

Production related enquiries: theatre@repton.org.uk