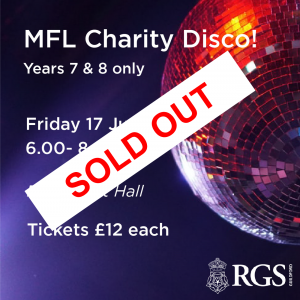 PLEASE NOTE: This allocation of tickets is FOR RGS STUDENTS ONLY. Maximum 1 ticket per booking. Please only book a ticket for your child.
If you are booking a ticket for a student of another school that is participating in this event, please use the specific link sent by that school. This link is to a simple form. FOR YOUR CHILD TO ATTEND THIS DISCO YOU
MUST
HAVE COMPLETED THIS FORM IN FULL. Thank you.
We are delighted, after a 3 year absence, to welcome back the RGS Charity Disco. This year it will have an international theme with chart-topping songs in many different langauges. This popular event is sure to be a hit! 
Rock up at 6.00pm to enjoy lots of international tunes whilst catching up with friends. A soft drink and a snack will be provided and other refreshments will be on sale (cash only). 
Students need to arrange to be collected when the event finishes at 8.00pm.
This is a charity event. All proceeds from ticket sales, along with cash donations received on the night will go to RGS nominated charities: Compassion UK, Alzheimers Society and the Max Windle Memorial Trust. Please give what you can.
Open to Year 7 and Year 8 students only. Please note that ticket numbers are limited and will be allocated on a first-come-first-served basis.