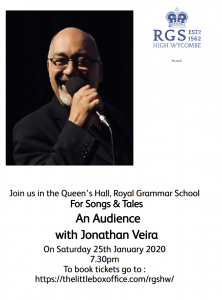 It is rare these days to be able to entertain and make people of all ages laugh – and really laugh. In his unique One Man Show, Jonathan has established a reputation for just this. He has been thrilling audiences around the country with his magnificent singing, causing great hilarity and inspiring – all at the same time.
His easy conversational style combined with superb music and riotous anecdotes is both enthralling and engaging.
Jonathan is essentially a musical chameleon - performing songs of great diversity to an incredibly high standard. Indeed – '
...better than anyone else in the UK
' is how
The Stage
recently described him. From Billy Joel to Mozart and everything inbetween – nothing seems too hard for him! Ballads, blues, rock n roll, jazz and even opera – everything sounds completely authentic and exhilarating. Accompanying himself on the piano with amazing dexterity, his glorious singing of his songs frequently moves people to tears and then they find themselves weeping with laughter at his tales!
The Sunday Express
called him sensational and Jonathan Veira's show is undeniably sensational because you get so much more than just 'the voice'. He is a superb comic raconteur, whose anecdotal story-telling has people of all generations laughing helplessly. When did you last see young and old rocking with laughter together? 
Saturday 25th January 2020 - 7.30pm
Tickets
 £15 Adult, £10 under 22, Family (2+2) £45