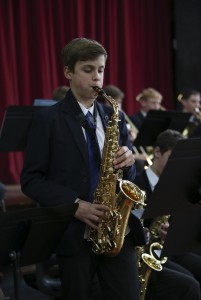 Join us for the first musical evening at RGS in some considerable time!  We do hope you will be able attend this free-of-charge event.  We only ask that you reserve tickets so that we can keep a careful eye on numbers.
The evening will be an informal concert format, with guests sitting at round tables and a bar in the hall, which will be running throughout the evening's performances.
Performers this year include Big Band and Trad Jazz, a few select solos from our Year 13 students, and possibly even a guest spot for the Music Department staff and guests!  We are especially blessed this year to be able to include our Chamber Choir, fresh off the back of their exquisitely sung evensong at St Peter's College Oxford earlier this term.  We will also have the opportunity to intersperse the music with short segments of our Friends of Music AGM as we change the setup between the different groups, and allow newer faces to familiarise themselves with who the Friends are, how they help keep the reputation of RGS Music so high, and where they need help moving forwards.
We would love for you to join in with one of the most enjoyable concerts of the year and very much look forward to seeing you there!
Wednesday 20th October 2021 - 7pm
Free event but ticket required for entry