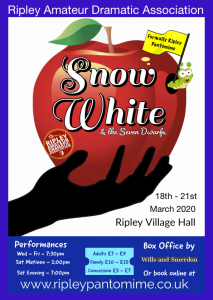 Ripley Amateur Dramatic Association (Ripley Pantomime) are proud to present the classic story of Snow White & the Seven Dwarfs a tale of betryal and wickedness, friendship, love and hope. 
Tricked by her wicked stepmother to eat a poisioned apple, is there anyone who save her before it's too late? 
Showing from the 18th to 21st March 2020 over five performances, including a Saturday matinee.
There will be laugh out loud gags, sing along songs and plenty of slapstick, it will have you hissing and booing in all the right places - book your tickets now for this unmissable show, which promises to be Ripley's biggest and most spectacular Panto yet!
Wednesday 18th to Saturday 21st March 2020 

Wednesday to Friday 7:30pm
Saturday 2pm and 7pm

Tickets
Adult £7-£9, Concessions £5-£7, Family £20-£25
********** Please Note That Online Ticket Sales Include a Non Refundable Handling Fee **********