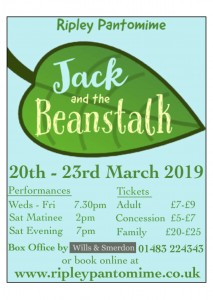 Ripley Pantomime presents the classic story of Jack and the Beanstalk, the tale of determination against adversity. 
With the help of a some magic beans and a little luck and support from friends and family Jack takes an adventure to the Giant's Castle, how will Jack fair and will all be a happy ending? Come and see to find out. It's a tall order, and Jack's journey will keep you on the edge of your seat, cheering him on all the way.
Showing from the 20th to 23rd of March 2019 over five performances, including a Saturday matinee.
There will be laugh out loud gags, sing along songs and plenty of slapstick, it will have you hissing and booing in all the right places - it doesn't take a farmyard animal to see that this unmissable show will be Ripley's biggest and most spectacular Panto yet!
Don't waste another minute! Climb on over to The Village Hall for the you chance to see this well loved story in the flesh, and have the Ripley Pantomime make all your wishes come true. 
Wednesday 20th to Saturday 23rd March 2019

Wednesday to Friday 7:30pm
Saturday 2pm and 7pm

Tickets
 Adult £7-£9, Concessions £5-£7, Family £20-£25
********** Please Note That Online Ticket Sales Include a Non Refundable Handling Fee **********