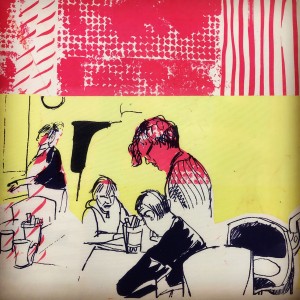 Ochre Print studio in Guildford hosts workshops from leading print artists, allowing printmakers to learn from their expertise.
As Artist in Residence during 2018, Helen Locke documented the daily life of the studio, from disability workshops to the screen stretching process of Ochre's partner AD Colour. The exhibition ranges from textile art pieces to large scale prints showcasing all that Ochre has to offer. Helen's work is part of surrey Artist's Open studios joining the 'Thames Trail'. A print workshop will be held on Saturday 15 June with the aim of attracting new members, especially Arts graduates.
Helen Locke is a graduate of the BA graphic Design (Illustration) course at Liverpool JMU with a Masters from Brighton university in Narrative Illustration. her drawing and printmaking skills have been used in teaching at FE Colleges in London, Watford and as a technician in the Textiles and Photography Departments of Alton College. her passion is for all things printed, and she can't stop drawing!
Wednesday 5 – Sunday 16 June
10am - 4pm
FREE