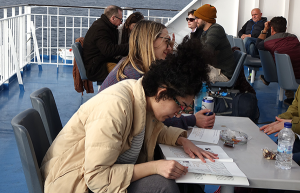 This summer Riverhouse has been selected as a hosting organisation for Bridge between European Cultural Centres (BeCC), a programme that offers staff exchanges, training and mentoring programmes for young professionals working in cultural organisations.
Riverhouse will receive an international artist, funded by the programme, and Walton-born artist Megan Black will participate in the exchange with an artist residency abroad.
This year's theme is 'Build your local network and keep it alive', providing an opportunity to rediscover the value of the local in the globalised and challenging times we live in. With the rise of cities and regions as global actors, an increased awareness of the need for grassroots work is greater than ever.
Wednesday 31 July – Sunday 4 August
10am - 4pm
Free