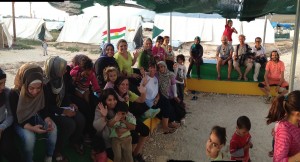 Humanity Rising, a film by Humanity's Heart is a 60-minute documentary film, focusing in-depth on the humanitarian stories behind the current refugee crisis, which is often lacking from related news headlines, detached statistics and procedural politics.  
Premiered in London in 2017 and aired last year on satellite TV, the film is a journey to the heart of what makes us human, touchingly explored through the personal stories of different people who are deeply caught up in the emergency.  It journey's through refugee camps in Calais, Lebanon and Greece, as well as relational spaces where refugees meet locals here in the UK.  
The film highlights the narratives of individuals fleeing wars and oppression (refugees), volunteers, aid agencies, ordinary members of the public, government officials, academics and spiritual leaders who offer us holistic reflection on humanity's response to the largest crisis since WWII. It also profiles the outstanding initiatives working hard on the ground, reaching out to humanity, providing inspiration over what can be done to remedy the situation.
Thursday 27 June, 8pm
Tickets: £4